Mark your calendar for the "From Here to EOSC" workshop on the 28th September
September 28, 2021 @ 15:30

-

17:00

CEST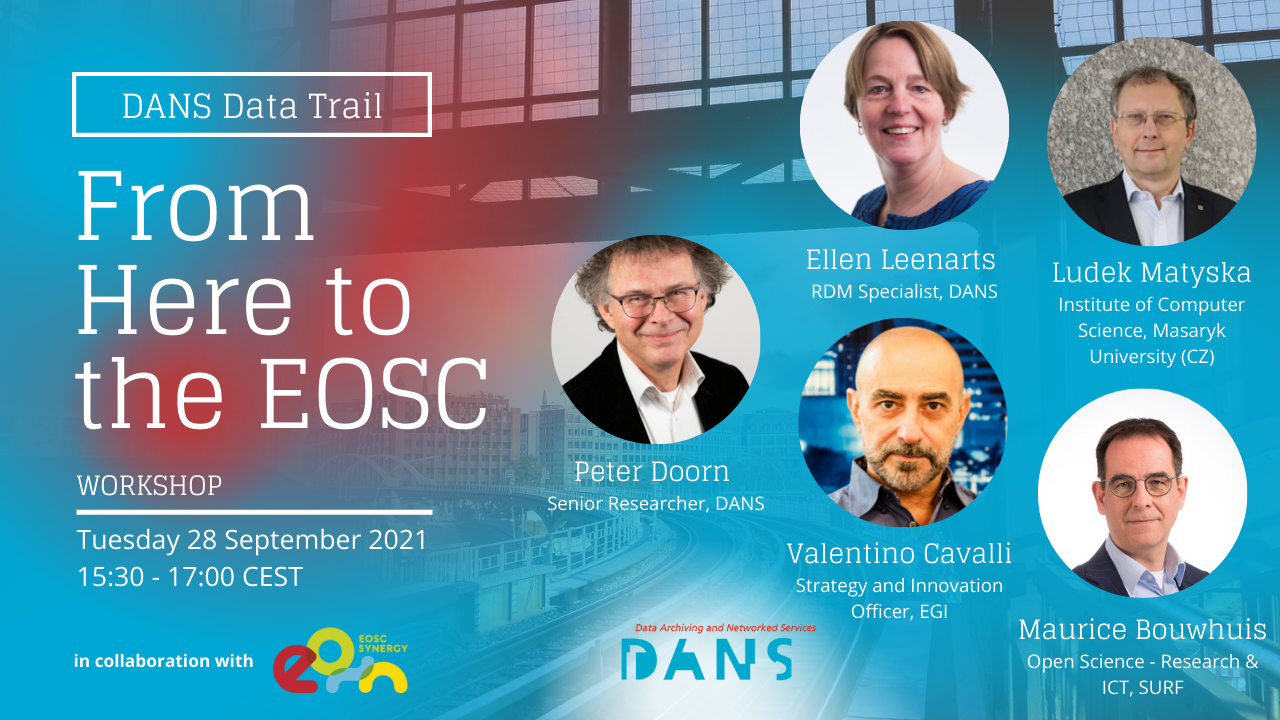 The European Open Science Cloud (EOSC) is a hot topic in today's science world, and national governments are taking more and more steps towards the concept of Open Science. This includes the Dutch government, that has started to monitor the progress and barriers concerning the Dutch data infrastructure and related facilities, which will be presented and discussed during the "From Here to EOSC" workshop organised by DANS in collaboration with the EOSC Synergy project.
The workshop that is organised will feature several speakers providing short updates followed by an interactive session using interactive polling.
List of speakers:
Ludek Matyska (Institute of Computer Science, Masaryk University, Brno, Czech Republic) will briefly introduce the EOSC ambitions and provide some background on the gaps between "dream" and "deed".

Valentino Cavalli (Strategy and Innovation Officer, EGI) will reflect on the EOSC maturity and readiness on the basis of landscape analyses in seven countries.

Peter Doorn (Senior researcher and scientific advisor, DANS) will provide an update of the situation in the Netherlands with respect to Open Science and Open Data, presenting a "dashboard" to monitor the progress.

Maurice Bouwhuis (Open Science – Research & ICT, SURF) on the NPOS (National Programme Open Science) and the collaboration between SURF and DANS.

Ellen Leenarts (Research Data Management Specialist, DANS) on the EOSC Association Task Force "Upskilling countries to engage in EOSC".
Do you as a researcher, policy maker or service provider know where we stand and want to provide your insights? Register now by clicking here.