SCIPION
Scipion is an application framework developed by I2PC in Madrid to help the Structural Biology community to process CryoEM data. Scipion is developed as a plugin-based workflow management system that integrates many important software packages available in the field. ScipionCloud, currently an EGI AppDB image, is being modified to use standard EOSC services to enhance service deployment and user access as well as an optimized usage of cloud resources. The ScipionCloud service will allow Instruct users to deploy a dynamic cluster in the cloud to keep processing the data acquired at the facility.The architecture of SCIPION service is shown in figure. User acquires images at a microscope facility where some automatic preprocessing is done using Scipion. Raw data and projects are stored locally. Later, a user can access the EC3 portal (or a customized portal embedding EC3 client) using her ARIA credentials on the EGI check-in service and deploy an elastic cluster.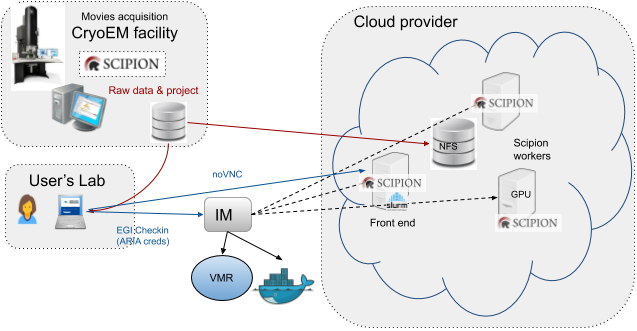 The cluster comprises a front-end node with Scipion, a shared storage containing data and project (raw data might be skipped due to the size) and the required components to spawn worker nodes when a job is launched through SLURM. Users will interact with the front-end server via noVNC from a web browser.
SCIPION service includes or will include the following services listed in the EOSC marketplace:
EGI check-in: Using ARIA IdP (INSTRUCT users). Needed to access the EC3 portal of EOSC-Synergy and to deploy the cluster in EOSC resources.
EC3 and IM: These services are used to deploy an elastic cluster on EOSC cloud resources or public clouds such as AWS EC2.
EOSC cloud resources: The cluster might be deployed on EOSC federated cloud if credentials permit it.