Last week, 6th – 9th June 2022, EOSC Synergy was present at Open Repositories 2022, the17th International Conference on Open Repositories in Denver, Colorado, USA. Our colleague Fernando Aguilar (CSIC) presented a poster about Software Quality Assurance as a Service (SQAaaS), and gave a talk about FAIR EVA (Evaluator, Validator & Advisor).
SQAaaS – Ensuring Software, Service and Data quality automatically in open repositories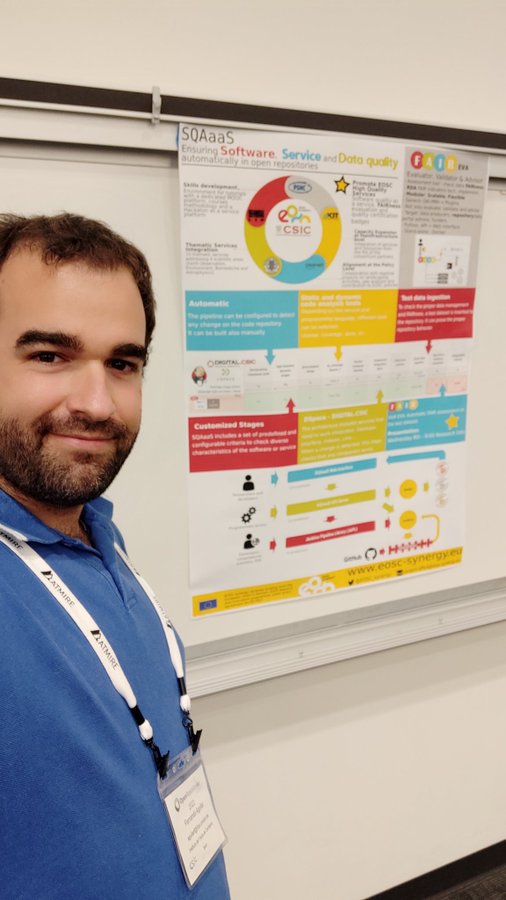 There are different repository software systems available open and freely (DSpace, Invenio, Dataverse, ePrints, etc.) and they sometimes need to be customized to adapt to particular cases (institutions, disciplines, research fields, etc.). Due to not only the functional requirements but also the non-functional ones like performance, different strategies need to be adopted to optimize the repository behavior. To ensure optimal performance as well as being ready to scale and adapt to any eventual and strong load, modern systems usually adopt a modular approach separating microservices (databases, indexer, web user interface, etc.). Every component can be packed and replicated if needed and it facilitates the adoption of a DevOps approach. DevOps is a set of practices that combines software development (Dev) and IT operations (Ops). One of the key outcomes of the EOSC Synergy project is the Software Quality Assurance as a Service (SQAaaS) solution, which enables an on-demand composition of the CI/CD pipeline in order to cover a series of quality standards for software and services (once the software is deployed), complemented by the data FAIRness through the evaluation of the RDA FAIR indicators. This work presented the integration of DSpace software repository technology (core of DIGITAL.CSIC) within the SQAaaS, which covers the whole development life cycle: translating the requirements to test cases that will guide the implementation of the new required code, and how each change in the code is verified and validated (V&V) through a CI/CD pipeline. The main contribution is the inclusion of the data FAIRness check that has been made possible by the development of the FAIR EVA tool.
FAIR EVA: Checking data FAIRness in data repositories.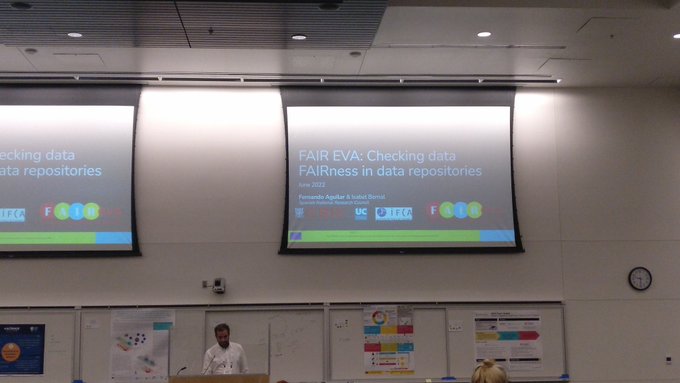 The four FAIR principles (Findable, Accessible, Interoperable and Reusable) aim at promoting open science best practices to improve the quality of data and research products, as well as facilitating their reuse. These principles have given way to a broad host of indicators, recommendations and metrics to assess the FAIRness level of research data and an increasing number of evaluation tools provide estimates and methodologies around FAIRness. However, most of those tools and underlying metrics have focused on addressing challenges and specificities from a particular domain, or they are too generalist to provide a concrete set of results to understand the actual FAIRness level accurately. This work presented the main characteristics of FAIR EVA, developed by EOSC Synergy, which aims to provide feedback for researchers and repositories administrators and developers in order to let them know the current level of FAIRness of hosted digital objects. The goal is to provide a tool flexible enough to be adapted to different types of repositories and disciplines profiles, as well as make available mechanisms for specific systems like institutional repositories to evaluate FAIRness of their digital objects within their own institutional contexts. The greatest value added feature of the tool refers to its ability to run generic technical implementation of specific metrics while at the same time it is ready to be adaptable to particular infrastructures like institutional repositories or disciplinary data portals through plug-ins that balance the indicators, metrics, and their weight within the full assessment exercise.
Pictures courtesy of Fernando Aguilar (CSIC)