A record in utilisation was scored in 2020 by the EGI Federated Cloud thanks to the deep-Hybrid DataCloud and EOSC Synergy projects.
The EGI Federated Cloud is a distributed cloud compute platform for advanced scientific computing that brings together tens of major research cloud providers across Europe. The purpose of this federated infrastructure is to boost research data exploitation and usage of cloud services to increase research productivity and time to discoveries. By federating multiple providers, it brings cloud computing, data processing and analytics tools next to the data, making national advanced compute facilities accessible to research communities across organizations and national borders, and simplifying data utilization by making it available with relevant application tools.
The advent of cloud-based services from the deep-Hybrid Data Cloud project for artificial intelligence (machine learning and deep learning), parallel post-processing of very large data, and analysis of massive online data streams is further enhancing the capabilities of the EGI Federated Cloud. Besides providing ML and AI services, the EGI Federated Cloud brings to researchers a rich portfolio of data, simulation and data analytics tools that address the specific needs of scientific projects. The EGI Federated Cloud data spaces are a joint effort of NGIs – the EGI national nodes, major national and European research data providers, and the EOSC Synergy thematic services.
With deep-Hybrid Data Cloud the EGI Federated Cloud doubled the compute power delivered to researchers, beating the unprecedented threshold of more than 40 Million CPU hours/year.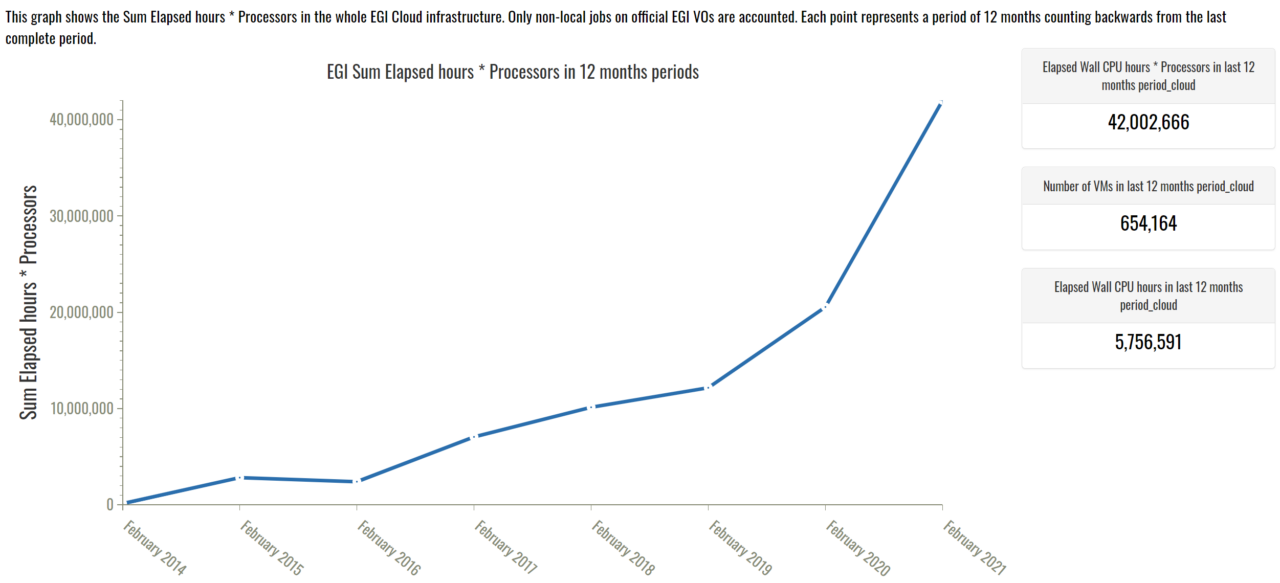 The EGI Federated Cloud data spaces are a collaborative effort of the EGI Federation and major research infrastructures for environmental research (e.g. LifeWatch, GBIF, EMSO, OPENCoastS, MELOA, SeaDataNet and NextGeoss) is demonstrating how cross-border access to research data and digital tools can accelerate science and evidence-based policy making.